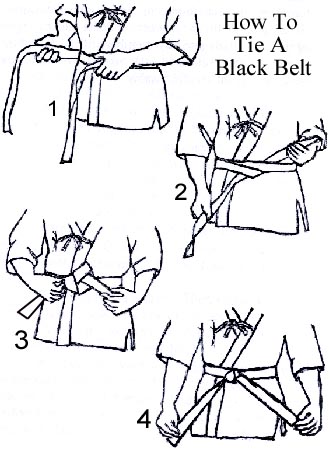 The Ceremonial Black Belt is a Badge of Rank, a Girdle of Strength, a Pledge of both Duty and responsibility and a symbol of the level of skill and proficiency of the wearer. The method of tying the belt or "obi," to form a square knot, the standard method used by martial artists the world over, is given here.  
1) Holding the belt so that one end hangs near your left knee, wrap the belt twice around your waist.
2) Lay the free/right end over the held/left end and tuck it under both wraps that encircle the waist.
3)Bring the right end of the belt down and pull the left end through the loops so formed.
4)Pull the left end tight to for a Square Knot, then pull both ends to draw the knot tight and make it secure. 
The knot should be placed in the center of the waist, just below the navel. This represents that the martial artist follows the "middle path" of peace and harmony.
DOJO HOMEPAGE      DOJO MEMBERSHIP Pg. 1      DOJO MEMBERSHIP Pg.2     DOJO MANUALS    WEARING THE COLORS       NINJA TEMPLE   AUDIOTAPES    VIDEO TAPES   FEATURED AUTHOR
  VANISHING NINJA    SUBMIT YOUR MANUSCRIPT    INQUIRIES   COMPANY PROFILE
To order by mail:  Indicate book or item and mail with your
name, address, city, state and zip code to:
Dojo Press
PO Box 209
Lake Alfred FL 33850
Copyright © 1998 Dojo Press, Inc.
All rights reserved. Do not duplicate or redistribute in any form. SM112476
Please include check or money order.  Canada and Foreign
orders, please add $5 per order for shipping. US Funds Only.
For General or Advertising Information Contact: Dojo Press